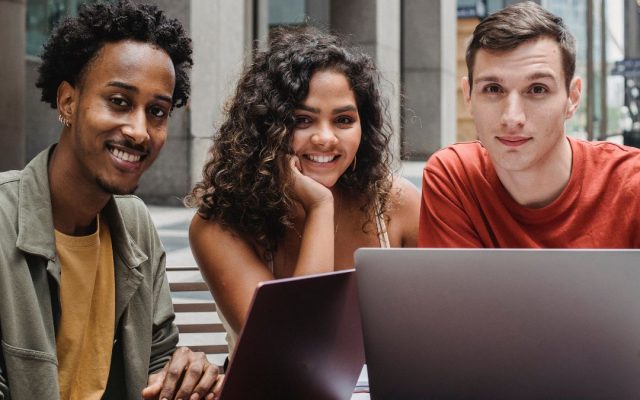 A student visa is a temporary visa which allows you to remain in Australia to study for the duration of your course. Courses types range from general English courses to university-level courses. As an Australian International student, in most cases, you will be permitted to work a maximum of 40 hours per fortnight or 20 hours per week. In some cases, you will be permitted to work full time.
Why is Australia such a popular place to study?
Here's a list of some of the main benefits of studying in Australia:
obtain a world-class education recognized internationally
study the Australian way – not just theory but real-world practical experience
obtain new skills and broaden your career options
learn about the Australian culture and lifestyle
work whilst you study to obtain valuable skills related to Australian work standards and ethics
live, study and work in a safe and friendly atmosphere – Sydney and Melbourne were ranked among the top ten friendliest cities in the world
your partner/spouse and family can also be added to the same application
dramatically improve your English language and communication skills
interact with international students from all over the world
experience integrating with a multicultural society
obtain a Skilled Temporary Graduate work visa (Subclass 485) if you choose the right course
work towards applying for a permanent residency visa to live and work in Australian permanently
What type of course?
We can provide you with info related to numerous colleges and universities around Australia. Here's a list of some of the types of study fields we can explore:
Trade Courses

Carpentry & Building and Construction
Light Vehicle Mechanical Technology
Child Care & Community Services
Hospitality & Commercial Cookery

Other Courses

Information Technology
Business & Project Management
Accounting & Finance
Leadership & Management
Digital Marketing
Sport and Fitness
General English/ Academic English
What are the Fees?
As an international student, you will be required to pay tuition fees upfront each semester. Initially, you will need to pay just for the first semester or term. The table below will give you an idea of course fee ranges for different types of courses.
Course type
Duration (Year)
Tuition fee
Intakes
Trade Courses
2 Years

(8 terms)

A$2,500 – $3,000(per term)
Monthly
Diploma/Advanced Diploma Course
1 year

(4 terms)

A$1,500 – $2500(per term)
Monthly

English Courses
Can vary
A$ 250 – A$ 350 (weekly)

Monthly
Bachelor's Degree Program
3 Years

(6 Semesters)

A$10,000 -$12,000 (per semester)
Feb, Apr, Aug, Oct

Master's Degree Program
2 Years

(4 Semesters)

A$12,000 – $14,000 (per semester)
Feb, Apr, Aug, Oct

Professional Year Program
1 Year
A$8,000 -$12,500 (per year)

Monthly
Please note, if your application is not handled correctly, your visa can be refused resulting in complications to stay in Australia or apply for another visa in future. To ensure your application is handled correctly and to obtain precise information for your specific situation please arrange an assessment with one of our Certified Education or Immigration Specialists. Please note, for Education only enquiries and assistance talk to our Education Specialist, free of charge. Please indicate clearly if you wish to speak only to an Education Specialist. For Immigration related enquiries, find out more about what a full migration assessment involves.
Total Processing fee
Excluding course fee, these are the costs included while applying for a student visa as a single applicant (excluding family members)
Overseas Student Health Cover (OSHC) – approx. AUS $ 600 (per year)
Student visa government application fee is approx. – AUS $650
Our visa application and documentation processing charge – AUS $440 (including GST)
If documents are not in English (per document, translation cost will be AUS $50)
Please note: the subsequent temporary application charge or additional applicant charge may apply based on individual visa history and individual situation.
Why talk to a Qualified Australian Education Specialist?
Our Australian Education Specialists are certified, this means they have passed exams related to the Australian Qualifications Framework (AQF) and have many years of experience advising prospective students. Here's a list of reasons to explain why it is worthwhile for you to discuss options with one of our Australian Education Specialists. Our education consultants will help you with the following:
Provide you with a full assessment free of charge to understand your requirements and goals
Explain options related to educational institutions and courses available considering your preferred location, tuition fee and English requirements
Assist you to complete required applications and documents to arrange course enrollment
Guide you through the visa application process with the help of our registered immigration specialists
Arrange an economical health insurance service for you
Assist you to pass your English test
Communicate with education providers and immigration authorities on your behalf
Provide regular updates and ongoing support in relation to course enrollment and changes to student visa regulations
How to apply for a Student Visa
Whilst holding a student visa, you may be eligible to apply for another student visa or other type of visa before your substantive student visa expires.
In order to meet the criteria to be granted a student visa, you must select a course from a registered education provider, and the course must be full-time. Your country of passport and the type, of course, you wish to study, as well as various other factors, will be assessed by the Department of Immigration.
To obtain more info regarding study options available for your specific situation, arrange a free education assessment with our Education Specialist.
An assessment includes the following:
Discussion regarding your goals
Course options and fees
Scholarship eligibility
Enrolment and Visa processing assistance
Call +61 2 8964 5880 or email our office to arrange a discussion.